Elbaum Tanner Rock 'n' Roll Scene, in association with Brian Donnelly and Buckley's at The Station, present NP Presley with guest performances by Rocket J & 88s and Black Cats N.Y.C.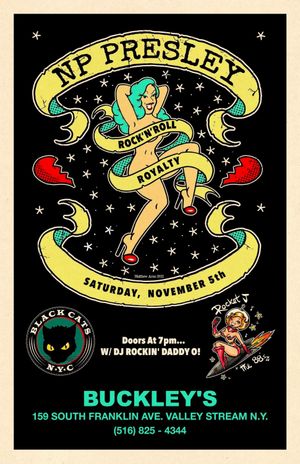 Singer, songwriter and guitarist, Nathaniel Paul Presley, is part of a musical royal family - he's the only living blood relative of Elvis Presley currently writing and recording original music, as well as performing live concerts worldwide with his own touring band.
Fans of Social Distortion, X, The Replacements, Johnny Cash, Jerry Lee Lewis and Hank lll will dig seeing NP Presley perform at Buckley's, along with special guest performances by Rocket J & The 88s and New York City's own Black Cats!!
And don't forget your dancing shoes because DJ Rockin' Daddy-O will be on deck spinnin' rare and vintage 45s in between the live performances.
Price of admission $15.00 +tax  Tickets available at: https://www.universe.com/NPPresleyRocketJBlackCats or $20.00 at door on day of show.
Doors 7:00pm / Showtime 8:00pm
Buckley's has been family owned and operated since 1969 and is conveniently located across the street from Valley Stream Long Island Railroad Station. 
Buckley's
159 S Franklin Ave
Valley Stream, NY 11580