BLACK CATS NYC - Black Cats (Nothing's Gonna Stop Us)
Out of the ashes of a pre-gentrified lower east side come the BLACK CATS NYC. A guitar driven Rock 'n' Roll band straight off the streets of New York City. This quartet performs with the vibe and style of Johnny Thunders' Heartbreakers, the tongue-in-cheek power of AC/DC, and an IV full of Chuck Berry and Eddie Cochran on a constant drip. Taking it back to when cool was king and grit ruled the airwaves. 
BLACK CATS NYC are: Andrew Giordano: Vocals/ Rhythm Guitar, Francesco D'Ambrosio: Lead Guitar, Stan Esposito II: Bass Guitar, and Jason Reddish: Drums. Put your club clothes on, grab that someone special, and "Come Along for the Ride!"
BLACK CATS NYC have a new single/video: 
As the old adage goes "If it ain't broke don't fix it" - Once again collaborating with Corey Zack and feeling a bit retro, the Cats went back into the Cocoon and laid down some hot tracks for their latest effort Black Cats (Nothing's Gonna Stop Us). This post-apocalyptic, hard hitting rocker is an eerie take on modern society. Written as the band's theme, it is loosely based on the iconic 1954 novel I Am Legend by Richard Matheson. 
Looking to a produce a video that would match the tone of the song as well as emulate the late-night horror films of their youth, the boys recruited Manonce, one of NYC's most innovative artist/ photographers, to attain the right atmosphere. Shooting began late October '22 on their home turf, the back alleys of NYC. Incorporating scenes from the studio, on the stage at the Bowery Electric, and utilizing clips from the public domain (not to mention a little creativity). This post-apocalyptic Rock n' Roll thriller is chock-full o' vampires, zombies, broken hearts, and loud guitars...what more can you ask for?!?
Black Cats (Nothing's Gonna Stop Us)
Published By Strike A Chord Artists Music (BMI); Recorded and Mixed at Cocoon Recording Studio, Jersey City, NJ; Produced & Mixed by Giordano & Zack; Mastered by Joe Lambert; Graphic Design Francesco D'Ambrosio
- released worldwide October 28, 2022 is streaming loud on your favorite service and available for purchase direct at blackcatsnyc.com or at Amazon & iTunes. 
- The Official Video released Friday, January 13, 2023.
View on YouTube or on blackcatsnyc.com 
Black Cats NYC were part of The Cramps Annual Sally Can't Dance at Bowery Electric NYC, shared the bill with NP Presley at Buckley's on Long Island, and did a full Heartbreakers set at the L.E.S./ Johnny Thunders Tribute April 23, 2023 at the L.E.S. oldest open live music venue the Parkside Lounge.
_______________________________________
Past Releases: 
Dirty Little Hipster digital single released worldwide July 10, 2020. It was the first video from the Free Cake album, premiering on YouTube September 30, 2020. 
Free Cake the band's debut album digitally released worldwide on November 13th, 2020 and is streaming loud on your favorite service - including Spotify, Pandora, Apple Music, Amazon Music, SoundCloud, YouTube Music, Tidal, Deezer, & Tik Tok! The album is available for purchase at Amazon, iTunes, or direct at blackcatsnyc.com and at Live Shows. 
Run Rudolph Run digital single released worldwide December 3, 2021. The band's take on the classic Chuck Berry Christmas single. Available on your favorite service and for purchase direct at blackcatsnyc.com or at Amazon & iTunes. 
BLACK CATS NYC have shared the bill with the Legendary Alan Merrill, The Waldos, Spanking Charlene, and NP Presley. The Cats kicked off the Max's Kansas City 50th Anniversary Show at Bowery Electric, rocked at the Remembering Elvis: 40th Anniversary Tribute at The Delancey, and set the stage ablaze on the scorched track at Digs at Etown: Raceway Park! The band cut a three song demo Gone! with the multi talented Alan Rand in 2016 and released the Too Far Gone video, directed by Rand, in 2017. They have been featured on Uncle Floyd's Garage Sale Music on WFDU 89.1 FM and earned a spot on The Aquarian Weekly's Top 10 Bands to See Live in 2017.
Genre: Hard Rock
Label: BTB International (BTB-5002)
Release Date: October 28,2022
For Fans of: Johnny Thunders, AC/DC, Misfits, New York Dolls, Jet, The Cult, Cheap Trick
"I love the intro of this song with the drums and guitar riff. The tone of the vocals reveal a dark and mysterious vibe. " - Natália Barão
" Good meat'n'potatos with more than a little Iggy Pop attitude thrown in. If Little Steven's Underground Garage played more new music, this would be something he'd play." - Alan Cross
— Corus Radio, A Journal of Musical Things
Black Cats (Nothing's Gonna Stop Us) - Official Video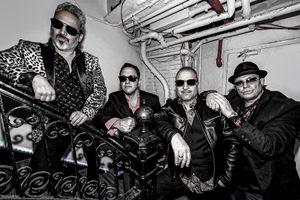 Management/ Bookings/ Press